The Changelog – September 2022

September is the best month. It is the "back to school" month. The time when you sprint into a new season of life. Only that, this time, I think I forgot about that. I still have a task I put on my to-do list on September 1st. It is about my regular planning and organization for the new season. I usually need to do that in the first week of September. But it is still there at the time of writing (September 28th).
I feel I forgot about September. Like if I sat in my living room observing a black hole devouring time and space.
I am rereading my journal for the month. There is nothing there to justify this life blackout. Only the creeping feeling of dragging through the days and the general sense of "not being there."
Yes, past me. You got it right.
The unexamined life is not worth living, my dear Socrates said. But often, the not unexamined life is not lived at all. And while I struggle daily to make a habit of self-examination, I feel like drifting away in time.
This is one reason I am glad I have this fixed monthly appointment. It forces me to realize I am zoning out in life. I prefer to blink and miss a month than wake up in 2023. 😅
(Actually, going back to my journals, my September saw an actually very memorable event, but it was on September 2nd, so the argument still works.)
But let's come back to this month's Changelog. I have a good bunch of recommendations for books, music, and series. And a rant.
Note
If you just want the ChangeLog as a newsletter, you can subscribe
here
. (that's what the cool guys do nowaday, right?)
Reading
This month I read 7 books in parallel. 😵‍💫 I think I need to stop to add new books for a bit (edit: nope. I just saw a notification that a book I preordered is coming on October 6th.)
In any case, I can add four books to my tally:
Philosophy in the Hellenistic and Roman Worlds by Peter S. Adamson. This is the second book in a series on the history of philosophy based on this beautiful podcast. I love this series, and I love Adamson's precise but not-to-serious tone.
Several Short Sentences About Writing by Verlyn Klinkenborg. This is another book on writing. To be honest, I don't know how to take it. It is called "several short sentences," and that's what it looks like. I still feel it doesn't have an organic voice. But maybe it is on me because I read that over months with significant time gaps between every reading session.
Firestarter by Stephen King. It sucks.
Then, my recommendation for the month What If? 2: Additional Serious Scientific Answers to Absurd Hypothetical Questions by Randall Munroe, ex-NASA roboticist and better known for the XKCD webcomic.
This book is gold. I loved the first one, and I loved the second. As usual, Munroe produces a beautiful mix between rigorous scientific data and analysis, humor, and quirkiness.
This book is for you if:
You want to learn many scientific facts in a hilarious setting.
You want to introduce your kids to the scientific method by exploring silly questions such as "what if we build a billion-story building" or "what if we climb a pole connecting the moon and the earth." Well, maybe not every kid is like I was as a kid… but you can try!
You love XKCD.
You want to know how many ways we can destroy the planet/the solar system/the universe.
You want a red book.
Watchlist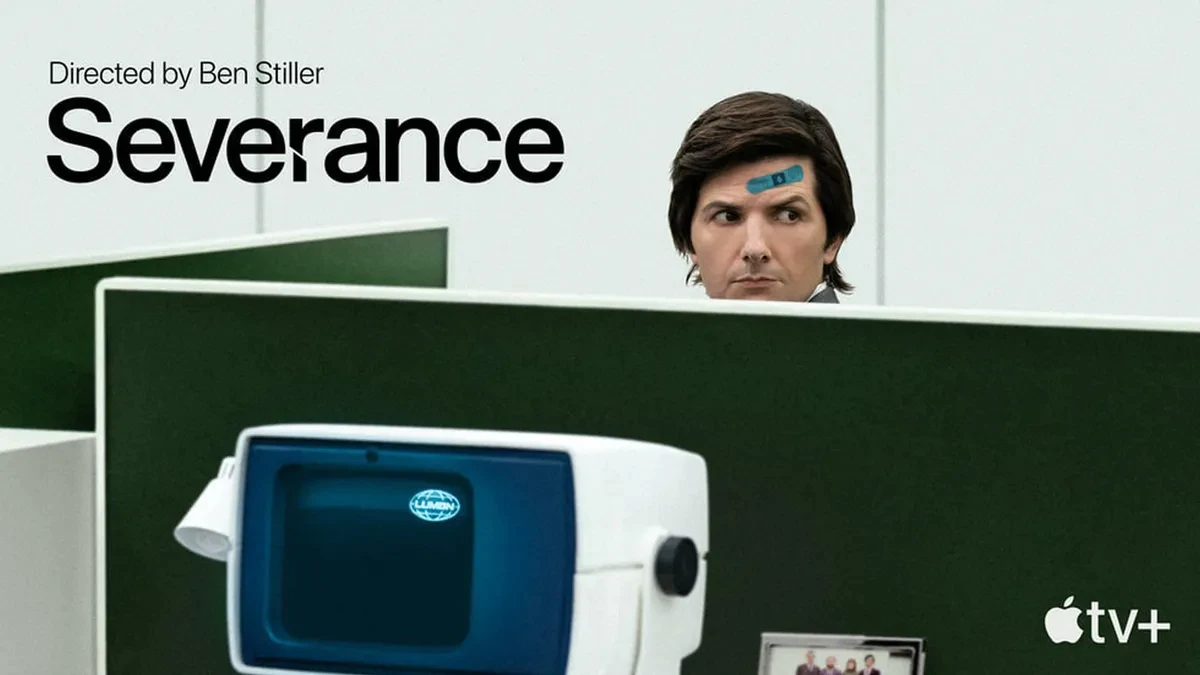 This month I've come back to my usual watching schedule. So I had just moved forward on shorter series. I have, though, two significant recommendations and a rant.
First, I am very late, but I've finally caught up with both seasons of Only Murders In The Building (2021-). I really liked it, it was a nice and funny watch. I probably enjoyed season 2 more than season 1, and that's strange. I didn't think the series' concept idea would work for more than one season, but it did. Let's see if it still works for season 3.
Of course, I think many things make no sense plotwise (see Spoilery Section, Point A), but they can be easily put aside by focusing on the wholesome dynamic of the leading trio.
Second, I needed to catch up on another series: Severance (2022-). I frigging loved it. This beautiful mix between Dystopic The Office, Black Mirror, and The Stanley Parable left me amused, happy, sad, raging, and deeply unsettled. And it really made me appreciate Ben Stiller as a director. And the end — that damn beautiful, emotional, infuriating cliffhanger. This is my primary recommendation for this month.
And now the rant. Like many, I am watching The Lord of the Rings: The Rings of Power (2022-). I know what you are thinking: "oh no! not again! I am sick of rants on The Rings of Power."
Don't worry. It is not a rant on The Rings of Power; it is a rant on the rants on The Rings of Power.
I am super-sick of critiques stating that the movie/series/whatever "doesn't follow the original work." I am tired of them. They make no sense.
Every transposition is a reinterpretation. I'd say more: every transposition must be a reinterpretation. Every remake needs to talk to a different public at a different time. It is made by different people, in different epochs, with different sensibilities, aesthetic canons, and backgrounds.
Then, we can discuss if a particular adaptation is good or not. If it reaches its goal or not. But the fact that it doesn't follow any stupid detail of the original work is worth nothing.
I think the obsession with "the original work" is the outcome of our copyright-strangled era. I don't think it was ever a big concern in literature and art in general. For example, did you ever see someone critiquing the Aeneid because Aenea doesn't follow the cultural background of the Trojan people depicted by Homer in the Iliad? I think in the past, due to the lack of such suffocating copyright laws, people were more used to reinterpretations and manipulations of loved characters and settings (do I really need to start talking about the Chanson de Roland?).
Anyway. I'll comment on The Rings of Power when the season ends. In the meanwhile, I am drooling at the aesthetic wonder of that series. Every minute I could press pause and enjoy a work of art.
I am not the only one. Look at this fantastic Twitter thread comparing shots from the series to classic paintings.
Music
Not a lot to say on the music part. I didn't follow any particular trend, as you can guess from the 5x5 collages. 😄
I have, though, two recommendations.
💿 Heroes by The Midnight. It is a new album from my favorite synth-wave band (the collage is in the top left corner).

🎶 Favorite Track: Brooklyn. Friday. Love.

💿 Omnium Gatherum by the King Gizzard and The Lizard Wizard. This Australian band does a super solid psychedelic rock. The cover (top row, fourth column) looks like a death metal album, but don't get fooled. 😂

🎶Favorite Track: The Dripping Tap (with its whopping eighteen minutes; no wonder it is only my fourth listening album this month).
Gaming
I know many people got into a viral game called Vampire Survivors. Maybe I am late; perhaps I am not. But this is the game where I spent too much time this month.
It is a "bullet hell" survival game clearly inspired by themes, weapons, enemies, and graphics by Castlevania. It is not terribly original but works pretty well and is somewhat addictive.
I am also happy that it is the creation of an Italian team. I am truly happy about their global success! However, I am a bit annoyed at the childish humor of the game. But, hey, English speakers will not note any of the terrible awful wordplays that pollute the game. So that's fine. I will just suffer in silence.
Other interesting things
📰 From satanic panic to billion-dollar business: how Dungeons & Dragons conquered the world. This is an excellent article with an auto-explicative title. It is a nice read for we nerds who traveled that weird 80s/90s period where you felt almost ashamed of even thinking about D&D.
🎨 Artist of the month (I am kind of enjoying this) is Elisa Serio with her beautiful celebration of the new Return to Monkey Island. One of the games that injected pirate blood into a generation. (I should really play it. I need 48 hours per day, though.)
Conclusions
That's all for September. I hope you are happy that, this time, I managed to keep this letter below 2000 words, as planned 😁.
Now, it is time to enjoy October, also known as the actual best month of the year. I don't have many plans other than a billion work projects and a big decision: should I try again with NaNoWriMo this year?
See you all next time. ❤️
Spoilery Section
Warning
WARNING: This section is for me to talk and comment on things that may be major spoilers. There is nothing after this section, so you can stop here if you don't want spoilers. You have been warned. 😄
[A] Here it is an example of something I struggle to believe: why did Teddy Dimas leave the guys to go home with their compromising knowledge in the name of all that's Holy? They have a damn popular podcast, Teddy! Don't you expect them to use it to incriminate you with their "compromising knowledge"???