The Changelog – January 2023
The first month of the year is always a month of change. However, the mistake is to make it a month of drastic change. First, for once, the months start with the New Year's Eve celebrations hangover, so we are already set up for failure. Second, drastic changes are doomed to failure anyway, so we should not put all our hopes on the line with bold new years resolutions.
Is this a good reason to give up? Absolutely not. But if we want to build a tower, we must prepare the terrain first. This is what January is for: not for tracking down goals but for preparing ourselves to veer the boat in the right direction.
This requires a good chunk of introspection to check for mistakes and some work to reinforce good fundamental habits. Such as showing up for the things that make us happy. Personally, I started to keep track of the words I wrote again. And even if I am writing very little, I feel satisfied as long as the number is not zero.
In the wise words of Laozi, "the tallest tower starts from a small heap of earth." Somebody should start piling up such dirt, though.
Note
If you just want the ChangeLog as a newsletter, you can subscribe
here
. (that's what the cool guys do nowaday, right?)
Housekeeping
The Books I Read in 2022
In this article, I have compiled a list of all the books I read in 2022, along with brief reviews. In case you want a centralized place for all the books I quoted in the monthly Changelogs. :)
A brief comment on the first month of exclusive Mastodon use
There is a pleasant continuous activity of developers. It feels like living in a golden age of clients, applications, and services for Mastodon and other ActivityPub services.
Unfortunately, there is also a certain amount of gatekeeping that infuriates me. But luckily, gatekeepers are drowned by a tsunami of enthusiasm.
I decided to write an entire article to explain better my current updated opinion on Mastodon and the so-called fediverse. I am planning it, hopefully, for the second week of February.
Reading
This January, I read three books. An excellent pace to overcome the disappointment of last year.
California by Francesco Costa. A non-fiction book in Italian describing the issues of the Great State of California. The book focuses, in particular, on the housing crisis that caused a population decrease in the state for the first time in at least 100 years. It is the best of the bunch, very informative and absorbing.
The Triumph of Caesar by Staven Saylor. This is part of my "Ancient Roman" guilty pleasure books. They are never great, but they are always time well spent and full of tiny amusing, historically accurate details. This is number 12 of the series, and I consider it above the series' average. I have been reading this series since 2020 😃 am I will not stop now (even if the following two books are "prequels," and I hate prequels 😔).
The Black Company by Glen Cook. This is a classic, and many trusted people have highly recommended it.
But I didn't like it. I didn't hate it either, but when you read a book and think, "I cannot wait for it to end," it is not a good point in its favor. As usual, my problem is that the author fails to make me care for any of the characters. Zero. I see a bunch of guys fighting another bunch of guys, and there is no clear motivation for anything. I whispered, "that's dumb," too many times while reading this book for me to care to continue with the series.
Watchlist
This section will be very, very short. I watched nothing during January. Not a single thing! Besides a movie with my parents, my watch-tracker is a ghost town. No rewatches (and I still have Star Trek: The Next Generation loaded up). No new series (I tried to start Season 3 of Jack Ryan, but… I guess I wasn't so desperate). I'm counting the days until Season 3 of Star Trek: Picard comes out in February to shake things up. 🖖
Musics
Inside the Cable Temple — Omnipotent Youth Society
If you know me, you know I listen to many albums. You may also know I attach a quick score to any of them.
For example, I listened to almost 600 albums in the last month. Among those albums, only 11 received a perfect 10/10 score. I reserve the maximum grade for things that really make me think about the power of music.
During January, I assigned the eleventh 10 to something unexpected that I found by chance by randomly browsing RYM.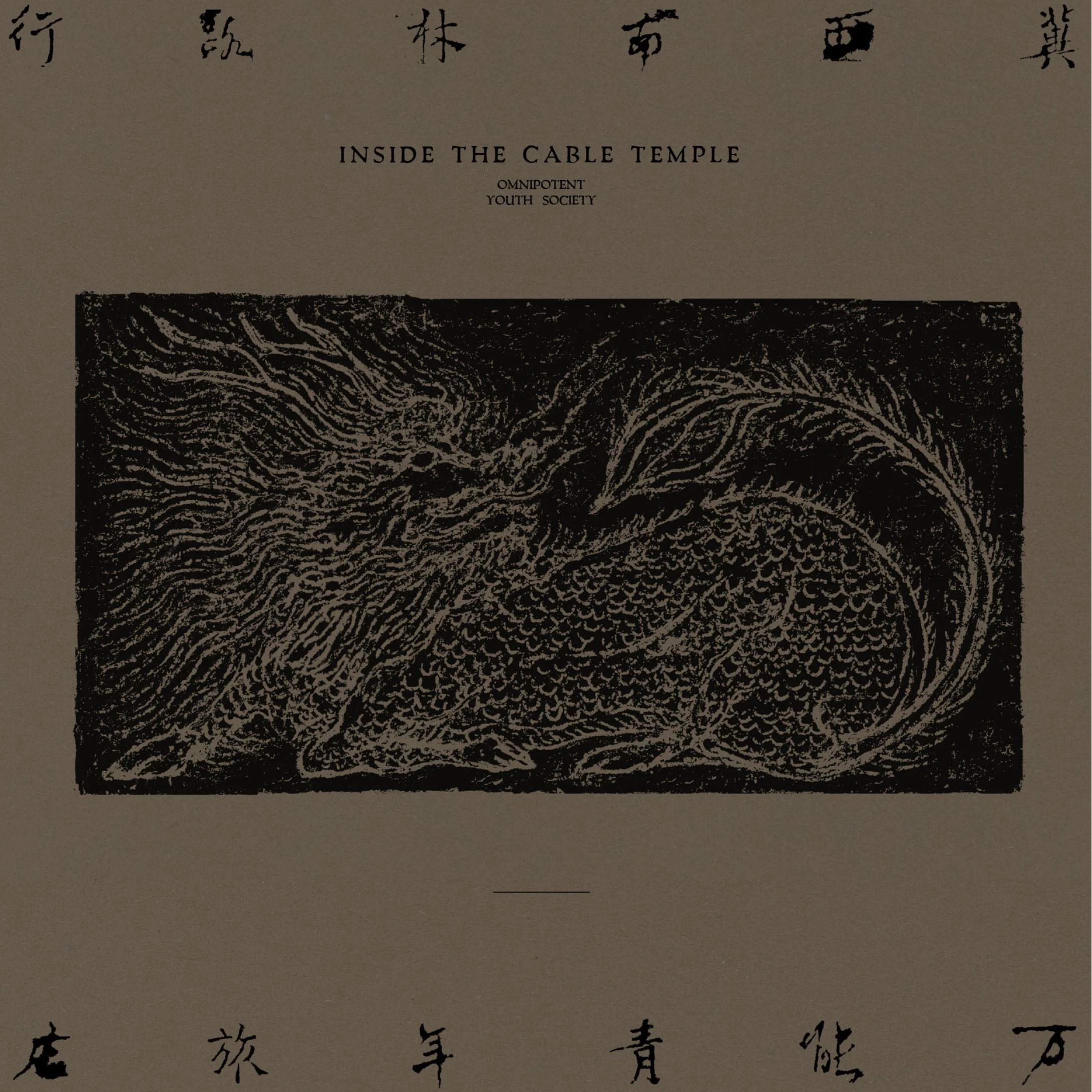 The album is called "冀西南林路行" by 万能青年旅店, or, using the official international names, "Inside the Cable Temple" by the Omnipotent Youth Society. This spectacular progressive rock album, released in December 2020, really blew me away with its execution, variety, and complexity of composition. It is the type of album that never gets boring, featuring jazz tones, progressive parts, melodic intersections, and even hard-rock sections.
Moreover, for some inexplicable reason, this is not the first skillfully crafted Chinese album I have come across recently (for instance, Cicada is another artist worth exploring if you are interested in Neo-Classical Ambient music). And I am okay with that! I am delighted to finally recommend more non-English work.
There are a lot of good artists around the world. It is a shame to focus only on one side of it.
Relisten
This is an old discovery, but I never talked about Relisten here, so I guess it is a good time as ever.
Bootlegs – i.e., the "unofficial" recordings of live shows – are not for everybody. Yet, I find them a fascinating way to live music. Many bands make good albums, but only great bands shine during lives events. A good live show is much more than the sum of the individual tracks. It is a story. It is a composition on its own. Bands and artists like The Grateful Dead, Phish, King Gizzard & The Lizard Wizard, Frank Zappa, and Bob Dylan are just some of the bands I prefer live than in the studio because they truly convey their visceral love for music and their talent as performers.
Maybe at some point, if you want, we will talk more about bootlegs. AUD vs. SBD, tease hunting, custom covers, and everything else. But for now, if you are interested, let me point you to this fantastic website: Relisten.
This is an open-source front end to the archived collections of tens of thousands of bootleg shows. Of course, The Grateful Dead amount to more than 16000 recording alone because they encourage the diffusion of their bootlegs. But you can find a lot of other content there. Do you want to listen to Elliot Smith's 1996 concert in Portland? Just navigate the website and click play.
It is a truly fantastic website. And if you're a Sonos owner, there's even an app for that!
Other Stats
In January, I listened to 60 new albums, 1400 tracks, and 579 unique artists. It was a massive listening month. The one with the largest number of tracks since 2017 (when I started keeping track of data with some criteria).
Unfortunately, the album Inside the Cable Temple is not in the collage because, technically, it is a single 44 minutes track. No way it will ever show in a collage based on play counts. 😂
I also made a playlist of the most loved tracks of this month! Warning: it psychotic. Definitely worth a shot if you want to explore 20 different generes in 25 tracks. 🤣 Enjoy!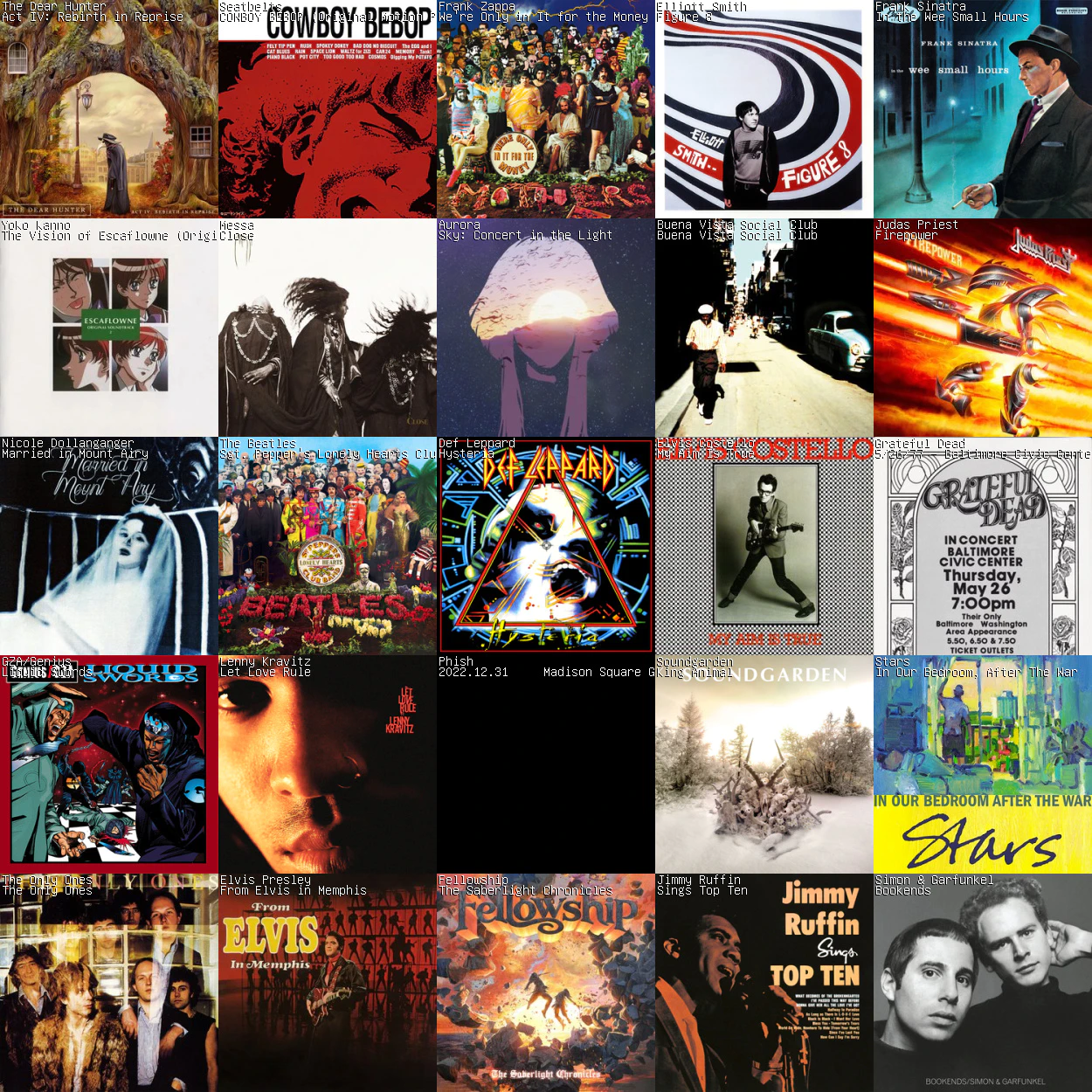 Gaming
I don't play a lot like in the old times. Therefore, I have a never-ending backlog of games I want to play. The top of the list contains years-old titles, so you must forgive me if I always show you games you probably already played years ago.
I am like Slowpoke. I am the Internet Explorer of the review. But that's the way it goes. There is nothing I can do.
With this sorted out, let me tell you I am (finally) playing for the first time Disco Elysium, the highly praised RPG game released in 2019 by ZA/UM.
It was about time. I lacked time to play it as it should for almost 3 years. Now, with the power of the Steam Deck, I was able to cut some pocket of time to explore this award-winning game (yes, I am playing it on the Steam Deck, and, yes, it is okay even if the text is kinda small).
(Note: I didn't finish it yet, but I am close.)
It was exactly what I expected: a solid game expressing its full potential with the freedom to explore the unfolding story. The first impression was that the game really cares about your decisions. The skill point system is perfect for such a narrative-heavy game as it assigns skill to personality (e.g., volition, logic, savoir-faire, etc.) and physical aspects (e.g., pain resistance, hand-eye coordination, reaction speed, etc.), offering excellent flexibility in manipulating the storytelling. I am eager to see if the sensation of the story reacting to my decisions will persist during a second playthrough.
Nothing is perfect, though. For once, my first hour of the game was wiped out by reaching a Game Over because I was insulted by a kid. That isn't nice. First, I care about my time and hate when games do not respect that. It is not the 90s anymore. Do not nuke my progress because you forgot to autosave in a place where you know I could game over. Second, the Game Over felt incredibly forced. I get it from the gameplay point of view (I had zero volition and just 1 morale point), but quitting the force because I stupid kid insulted you makes zero sense.
Another slightly unpleasant feeling is the presence of a choke point at the two-third story point that really felt "railwheeled." This is in sharp contrast with the general sensation of "your decision matters" that I experimented with in the rest of the game. At some point, I was forced to make stupid decisions only to move the story forward (I know because I checked the walkthrough out of frustration).
Finally, the XCOM-syndrome (i.e., failing a throw with a 90% probability of success) really sucks. Luckily, you can quickly reload the last save. I know it is technically cheating, but honestly, I don't care (see again the "I value my time" point).
Ultimately, I understand the love for this game and vastly recommend it. I know. As I said, I am the Slowpoke of game recommendations, so I am probably the only one that still needs to complete it.
Other Interesting Things
Some other interesting things I stumbled upon in January:
Conclusions
So here we are! Another great month is over. We are already in February, and I feel I still need to take 2023 seriously.
However, I am pretty satisfied with January, and I hope I can finally reach a more solid February.
Have a lovely month, beautiful people.
See ya in only 28 days!
(That means I am already a couple of days late!)