The Changelog – August 2023
Cozy, slow, August. A month of sporadic events and a short holiday break.
I know, I am late, but I have a good excuse: I was on a short holiday break in my nearby town of Terracina. I had also planned to publish this article on one of those lazy afternoons. However, when I arrived, I noticed that the mobile connection was practically non-existent (I hadn't seen 1kbps since the early 2000s), so I gave up.
No real damage, I suppose. I guess nobody lost any sleep over it. 😅
August was a fun and slow month, during which I added sporadic events and enjoyed this short holiday (which coincided with the first bad weather week in months, of course).
Note
If you just want the ChangeLog as a newsletter, you can subscribe
here
. (that's what the cool people do nowaday, right?)
Housekeeping
New Articles
This month, I've written three new blog articles. The first one is a self-reflection on why time tracking doesn't work for me. There are plenty of tools and practices that will make me thrilled if they worked. But they don't. Thus, it's better to acknowledge this reality and move forward.
The second one is the long-awaited (by whom?) episode of my series on how I rewrote my blog theme from scratch. In this piece, I explain how I made my theme responsive and created a pop-up menu using only CSS.
The third article is a quick, unpolished script for utilizing Elevenlabs' text-to-speech APIs in Unity.
Three articles in one month is a really decent pace.
Obsidian-Image-Converter
This month, I stealth-released an Obsidian plugin for quickly converting inline images. In fact, I paste countless images into Obsidian, and the default format is PNG. While there's nothing inherently wrong with this format, it tends to be quite large when compared to modern image formats like webp.
In the vault and on the blog hosting, I want to save as much space as possible, so I previously had to convert all these images manually.
Once I got sick of it, I decided to automate everything. Obsidian-Image-Converter is a plugin that does only one thing: it converts an image to your favorite file format and updates the link. With only a single right-click.
Reading
How to Be Free
I am continuing the Classical Wisdom for Modern Readers series. This time, it is a re-read. How to be Free is a modern translation of Epictetus's Enchiridion. It's not an easy book, but probably in the list of the top 10 books that changed my life. The book also includes some selected passages from Epictetus' Discourses touching the theme of Freedom.
Philosophy in the Islamic World
This is one of those books that I read from time to time. This month, I finally finished it.
Philosophy in the Islamic World is a part of Peter Adamson's series History of Philosophy without any Gaps. I already discussed the series in "The ChangeLog - September 2022". In this third volume, Adamson delves into the history of philosophy in the Islamic World, covering Christian, Islamic, and Jewish philosophers who lived in Andalusia, North Africa, the Middle-East and India.
Although it is a long book, it is a fascinating one. Primarily because it explores a usually ignored part of the philosophical landscape. I am delighted to have filled so many gaps in my philosophical knowledge!
Solaris
Solaris is a philosophical science fiction novel by the Polish author Stanislaw Lem, first published in 1961. It belongs to that very early era of science fiction that nowadays appears both weird and unusually captivating. However, the primary focus of "Solaris" is not on science fiction itself – a genre whose topics are only marginally tackled – but on the exploration of the human mind.
The mysterious, futuristic, and exotic planet Solaris serves as a pretext to discuss very human and modern themes: love, the boundaries of science, the concept of life, and psychology. It is a deep, beautiful book – unfortunately, not an easy one.
Watchlist
Everything, Everywhere, All at Once (2022)
I am seldom on par with contemporary movies. I try, I swear, but I am rarely able to visit the cinema during their theatrical release because I struggle to find a place where they are screened in their original language. Therefore, I add them to my watchlist, where they compete for time with another billion things, and only the Gods know when their time will come.
I tell you this to explain why I am here lauding a celebrated movie from last year that won seven Oscars with the same enthusiasm as someone who just came back from Mars.
But I cannot help myself. This movie stuck into my brain as only a few movies manage to do. It has all the characteristics I could hope for: it is weird, it is original, sprinkled with funny, quirky moments, and disturbing ones, and deep ones, and sad ones. It made me laugh, think and cry. 
I am also pretty happy when a positive movie wins an Oscar (I had the same feeling with Green Book (2019)). I am tired of post-modern films where the director/screenwriter wants to feel edgy and cool with cynic takes. Honestly, it is too easy to look smart with that.
(Now, I could start with all the meta-modernism theory discussion, but this will take forever. 😅 Maybe another time.)
Start Trek: Strange New Worlds (Season 2)
Start Trek: Strange New Worlds continues to be one of the best Start Trek series of the franchise. High-quality visuals, awesome actors, captivating stories, and an episodic structure that feels like a breath of fresh air (the pendulum of trends swings again!).
This season also included two quirky, experimental episodes. One was the crossover with the animated series Star Trek: Lower Decks. The second was the musical episode (and, holy hell, Celia Rose Gooding has an incredible voice).
Like many gimmicky episodes, they received both praise and criticism. They are fair critiques. It's tough to throw in very out-of-line episodes without raising the question, "Have they gone too far?"
Personally, though, I enjoyed them both. As you know, I like it when Star Trek tackles serious topics, but I also adore it when the franchise doesn't take itself very seriously (see my comment on Star Trek IV).
The strength of "Strange New Worlds" lies in its capacity to serve as a fantastic playground for the franchise's infinite diversity. It may feel disorienting to jump from a dark philosophical episode to dancing Klingons. But, at the same time, this variety of colors constitutes the core of Star Trek, and Strange New World is better because of it.
And then the season finale (Spoiler Section: 1).
The Bear (Season 2)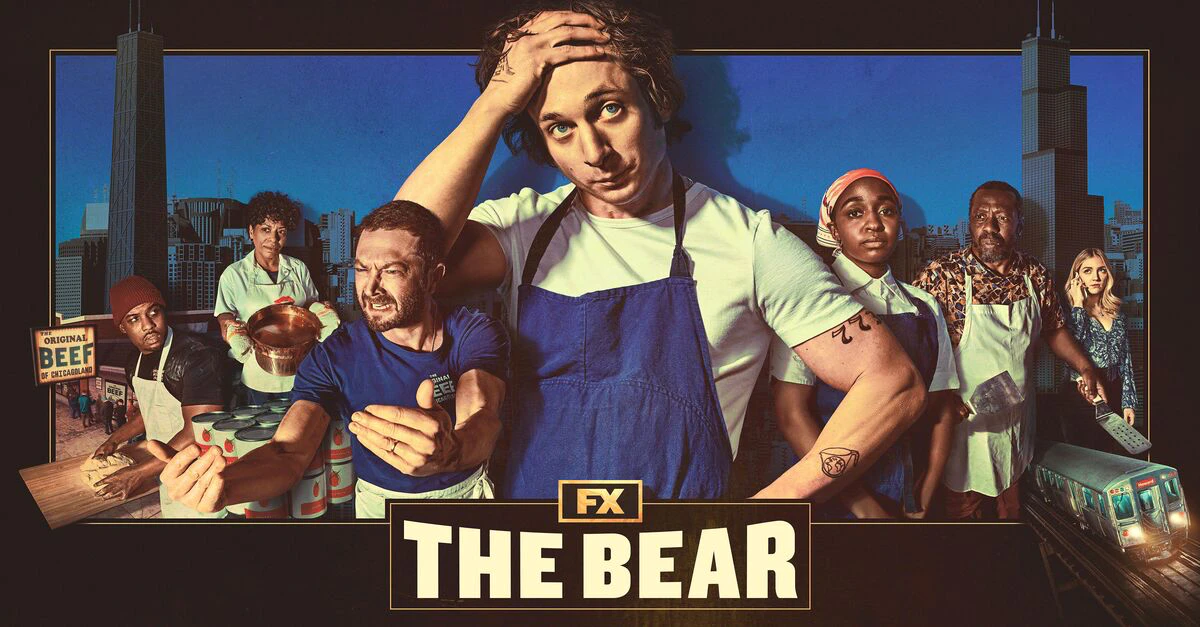 This month, we finished the second season of The Bear. I had the feeling that the season started weaker than the first, but it swiftly recovered its momentum in a beautiful crescendo. 
Both the Christmas episode and the subsequent episode (Forks) stand as beautiful movies in their own right. The series continued to impress me with its beautiful cinematography, clean storytelling and dialogues (threading the very narrow needle of being realistic but not dull).
Some things didn't 100% convince me, but all my concerns could be addressed in the next season. So, for now, I prefer to focus on the many good parts.
Music
What do you do when a piece of music isn't available on streaming? You turn to physical shops.
But what if the album isn't in any shop either?
That happened to me when I was looking for Never Turn Your Back on a Friend, the 1973 album by Budgie. It's a marvelous album, starting out of the gate with a hell of a riff that conquered my heart. The Budgie greatly influenced the development of Heavy Metal and Hard Rock in the 80s, yet they are not widely known to the contemporary public.
And they will not be, given that streaming services only have two albums (pre-1973) and streaming services are all modern listeners will try. If it is not there, it doesn't exist.
Luckily, people took music history preservation into their own hands. The entire album is available on YouTube and on the High Seas, arr. I wonder how many cultural artifacts of this century are strenuously safeguarded through unofficial efforts by private archivists or within the Internet Archive (a proper place of enlightenment).
As usual, here is the list of things I listened to in August. Not bad for August.
Gaming
I didn't venture into a lot of new games. All my time was allocated to completing Tears of the Kingdom to free my gaming backlog for a pretty dense September. And October. And November. Wow.
Unfortunately, due to my completionist OCD, I still have to beat TotK. I am exploring every square centimeter of the map like it was the most exciting lump of dirt ever created. 
I hope I am close, though, because Starfield is coming.
Other Interesting Things
Conclusions
I'll be quick to conclude, as I have already broken my deadline. August was a good month. It was the last month of the year, according to my idea that the year truly starts in September 😅.
Therefore, September will be a preparation and reflection month while I wait for a pretty busy October.
But, hey, we are already days in! I am late again!
---
Spoilery Section
Note
This section contains possible spoilers!
HOLY CRAP, THE CLIFFHANGER. How can they do that to us! And Season 3 will come later than usual due to the writers' strike (I'm good with that; God bless them). It will be a long wait.